Our name is inspired by the sanskrit word "Sutra"
Our goal as a Yoga school is to offer a place where the wisdom of Yoga can be understood through the practice of it, by every single individual who wants to learn about yoga and about themselves, regardless of race, sexual orientation, ability, or culture.
The Yoga Sutras of Patañjali is a collection of Sanskrit sutras (aphorisms) on the theory and practice of yoga. The Yoga Sutras was compiled in the early centuries CE. Patanjali synthesized and organized knowledge about yoga from much older traditions. The oldest tradition of Yoga developed out of the Tantric practice that came to be called Hatha Yoga. The practice of Hatha Yoga was widely associated with wandering street mendicants called yogis. As the popularity of the physical culture movement took hold internationally later in the 19th century Hatha yoga began to be integrated into the teachings exported from India to the West.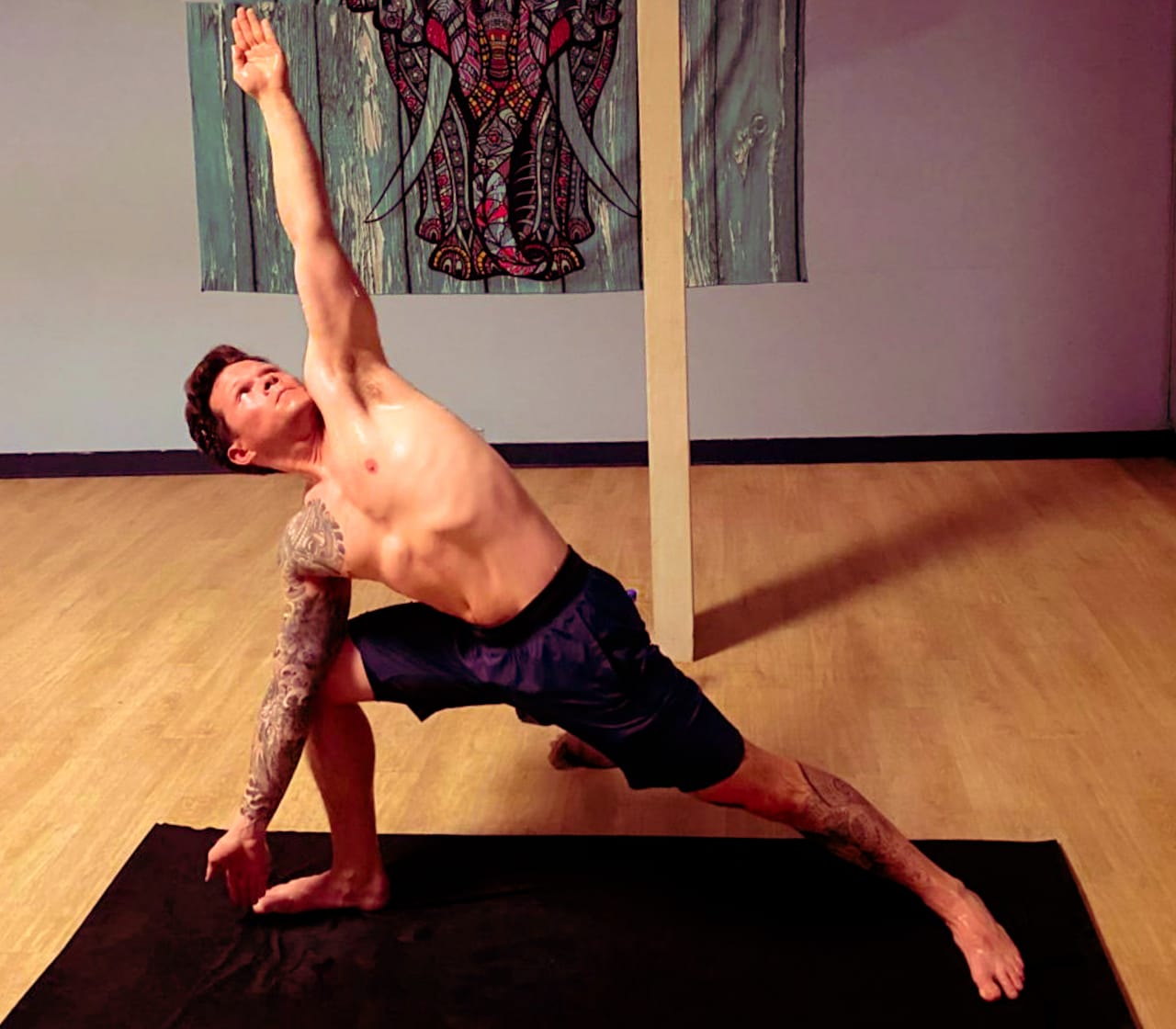 When the first Hatha Yoga school was built in the city of Mysore, India, simultaneously, in the region of  Bengal, Bishnu Charan Ghosh, the brother of Paramahansa Yogananda ran another school. Ghosh's school counted among its students Bikram Choudhury, who later created in Japan, a system of 26 postures done within rooms heated to 105 degrees, called Bikram Yoga.
Everybody is welcome to our studio!
Nelson Gerardo Candolino has been teaching Bikram Yoga classes since 2013 and is the owner of Hot Yoga Sutra in West Philadelphia. He was introduced to yoga through a dear friend in New York City in 2008. He originally came to the U.S. from Argentina, where he was born in Mendoza, just a short distance from the Andes Mountains.
The power of yoga dawned on him during a dark period of his life, practicing yoga every day and forging a path that would become his passion to share with others. Yoga, and particularly Bikram Yoga, helped him to heal old trauma from his childhood.
If you take a class with Gerardo, you can count on intensity and personalized attention, passion and liberating energy. He loves to have fun while also maintaining a deep appreciation for the practice and its benefits. He has always been interested in Philosophy and Arts, which originally brought him to the U.S. Gerardo is currently studying Philosophy in college. He loves people that work hard and like to be challenged and hopes to share the wisdom of yoga with everyone and especially with the community of Philadelphia in his brand new studio!
The curative benefits of Bikram Yoga marked a turning point for artist and musician Jessica Joy Myers after a tragic car accident in 2000 left her wheelchair bound and relearning to walk.
Her left femur severed and several other bones of her right leg smashed seemingly beyond repair, experts thought she might never walk again. Some hoped that she would walk, but thought at best, with a limp or a cane. "I was still supposed to be using a cane according to my doctors," says Jessica, remembering her first Bikram class. "It has been miraculous." The healing effects of Bikram Yoga were immediate, eliminating her limp, and realigning the bones in her right ankle within about two years. Less tangible was an over all sense of well-being.
Jessica's first meeting with Bikram Yoga creator, Bikram Choudhury, lead to her making a 7' x 6' stained glass installation in his Beverly Hills home. Many other artistic highlights in the Bikram Yoga community include four stained glass panels at the Bikram Yoga studio in downtown Philadelphia, USA, and glass artwork at Bikram Yoga Keary Mesa, and B.Y Kansas City MO.
Employed at the Bikram Yoga Headquarters since 2009, she has taught more than 3000 classes and oversees the class and front desk schedules, until Nov.2016.
She has tremendous gratitude for the rare privilege to have practiced weekly for eight years with Emmy Cleaves, as well as continually learning directly from Bikram Choudhury.
Like yoga's most iconic flower, the Lotus, which grows unstained from impossible circumstances, Jessica plans to bring the same healing effects she experienced through Bikram yoga to the world.
Chalise began her yoga journey at the age of 12 as a recommendation from her doctor to treat her scoliosis. She practiced at home to some yoga videos for years until she found her way to her first hot yoga studio. While she didn't enjoy her first class, she decided to come back because of how good she felt immediately afterwards. After two years of a consistent practice, she decided to become a teacher so she could share this beautiful practice with the world. She believes that yoga is for everybody, so she seeks to learn all that she can about the many types of yoga. She is certified in the 26/2 series, Vinyasa and Yin yoga. 
Marie is a Mat Pilates, HIIT, And Yoga certified instructor with over 5 years of experience. She loves sharing her love of fitness with others and seeing exercise give people the confidence, positivity, & strength (physical & mental) it has given her. She strives to create safe, and positive space for all students while giving a challenging, fun and rewarding workout. Marie wants everyone from the most advanced students to people in for their first class to leave feeling the same sense of accomplishment.
Expect to push, sweat and work muscles you didn't know you had!
VulgarYogi® is a compassionate, avid traveling yogini and master HIIT instructor. Having trained with at the Fall 2015 Bikram Yoga Teacher Training in Thailand, VulgarYogi withstood vigorous training in hot yoga with the original Bikram Choudhury himself and worked with Missy Jones, the pioneer of HIIT/Yoga/Pilates a low impact training system called PyroPILATES. In 2019, she then developed her own format of a class called VulgarYogi® Pilates, which is a high impact training system using HIIT/Yoga Strength holds /Deep Core Pilates that effectively burns fat and creates lean muscle in the fastest and most efficient way possible. VulgarYogi teaches yoga and hot pilates all over the country and world. Outside of yoga and fitness, she is passionate about alternative medical treatment for mental health. In early 2018, Toni took a pilgrimage to India to study and immerse herself in Ayurvedic punchakarma treatment, enabling her to use herself as an example for students and to promote awareness that alternative, holistic health truly is effective.
Michael is a Certified Personal Trainer with a B.S. in Exercise Science from West Chester University.  He is certified in Personal Training with the National Academy of Sports Medicine and the American Aerobic Association International.
With a strong awareness for clients coping with bodily dysfunctions, Michael's intuitive nature allows him to assist in speedy recovery with various hands on technique.
Michael also specializes in weight loss focusing on traditional core exercises and interval training.  He believes effective exercise progression must be built from a strong footing, placing proper technique and execution at the forefront of each exercise. 
Having experience in all walks of life – ranging from Elite Athletes to Special Needs and Adolescence, Michael sees every challenge as an opportunity.  It is a priority that all classes mirror his upbeat and energetic personality to promote positivity and teamwork.  Michael encourages others to reach their full potential while pushing their limits, believing that life begins at the end of your comfort zone.